A Windhorse Project

Note to new arrivals: This project has actually been ongoing for some time so you may notice that some of the content reflects this. However it is ongoing so please continue reading!

For the first steps of this project, some effort must come from you, and some from me. In Tibet, it is customary to write prayers for the benefit of all life onto flags which are then flown in the wind. As the wind blows the flags the prayers are broadcast (so to speak) , as if they were being said continually. This is done to grant more power to the flow of good intent.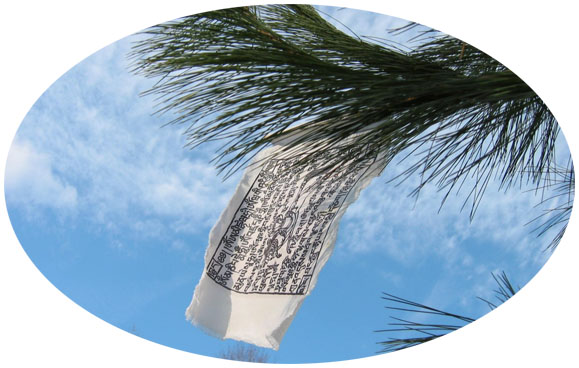 Prayer flag


To begin, I've set up a message board which you can go to from this site by clicking on the picture above. There you may leave a prayer of your own for the people and land of Tibet (and world Peace generally). Each will be written on a prayer flag which will be hand woven and printed using the carved wood printing block. To leave comments on Tibet and the project, please click
here
.

I believe this has intense purpose because prayer flags with their prayers or mantras do in fact remove negativity and greatly amplify the good intent of those who created them as they are set into motion. If these are flown for Tibet the benefit realized will be tremendous! You don't have to believe this however; you may think of it simply as a visual petition which, in fact, it is. Nor is it necessary for you to endorse any pre-existing religion. All that is necessary is the desire to help.

To do so, please register and log in. Then you can post a message by clicking on the posts I have made. This will take you to a screen where you can reply by clicking on the text button in the lower left corner marked "post a reply". (Please don't add additional topics at this time as the message board should be dedicated just to the two topics).

You will notice a space in your member profile where you can list a homepage as well as a picture; this is the address of your website ( you may know this already) and a picture of you from your website ( eg. www.yourwebsite/ picture.jpg) respectively. A website isn't very difficult to create; if you don't have one already and are interested please click
here
.

If you'd like a greater understanding of the situation, please click
here
.

In the meantime, I am creating space, in more ways than one. Here is another piece I am trying to finish. The braided bracelet I wear as I carve was created by Tibetans and was mailed by the ICT to support the release of political prisoners in Tibet. Many have spent decades in Chinese prisons there. I wear it to remind me of them and my personal commitment.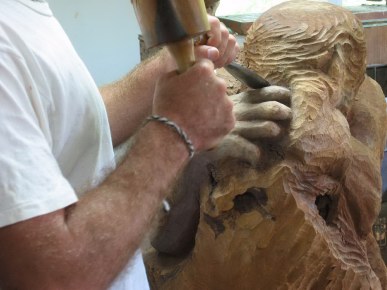 I continue work... Here is a closeup of the hand along with a full view of the piece .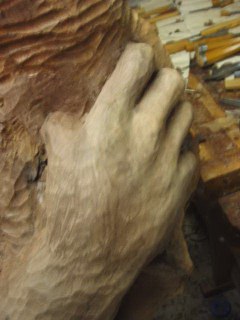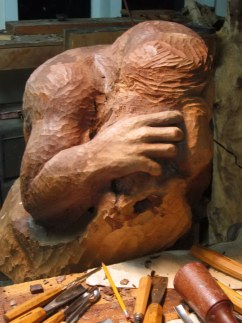 Over a million of the Tibetan people have perished in the Chinese occupation.

This is a view of a few days later seen from another angle. All the masses have been roughed out; everything is solidly in place now. I'm using an incandescent bench light which makes the color look a bit different.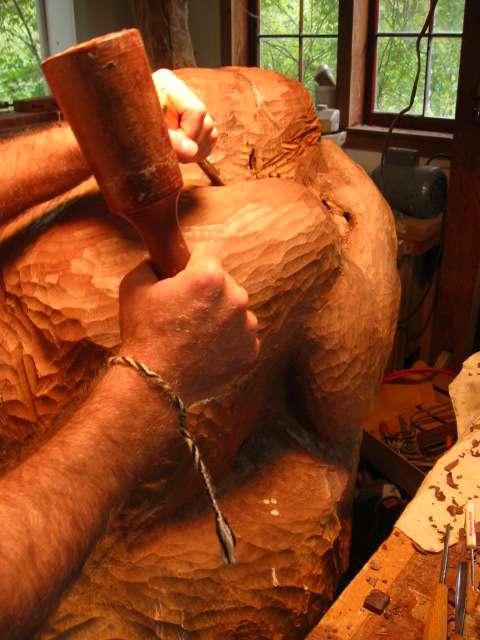 In the meanwhile, here is a page you may find interesting! It's about
The Flag of Tibet
. Please take a look as I continue working in the studio.

In response to some input I have received, I'd like to clarify a few things:

This project is not about relations/ racial integration or relationships between black people and white people. To me all life is sacred and all beings are entitled to regard and compassion. ( I struggle with the application of this truth to all situations because I'm human of course). This applies regardless of any distinctions some may choose to make. All beings come from the divine; for me to focus strongly on the above mentioned issue, would be to obscure this fundamental truth. The aforementioned is not my cause nor does it have anything to do with my personal commitment.

This project doesn't involve a journey to Tibet at this time. I am working hard right where I am. However it may in the future!

While the events of September 11 left me as grief stricken as anyone, this project does not have any direct involvement with this either. There is suffering everywhere on Mother Earth; grief and pain know no borders. I believe that relieving the suffering of any group of people or beings anywhere is of benefit to us all.


Here I am working on the back. This is actually a tricky part. When a sculpture is this large ( roughly life size), it becomes more difficult to blend the planes together or "work your way around the piece" as Barney Hodes, a sculpture teacher described it.

In fact, this is why he'd urge us to work life size in clay so that we could learn where we lacked understanding.

I've made some progress!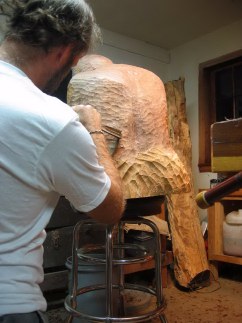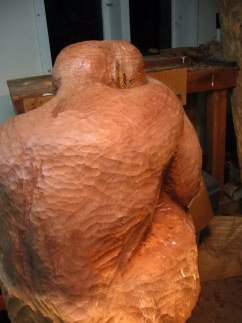 Now it's on to some difficult spots. Here I am working on the ear and collar area which is fairly complex. I'm striving to avoid the satellite dish look. As with any creative effort there must be trust in things.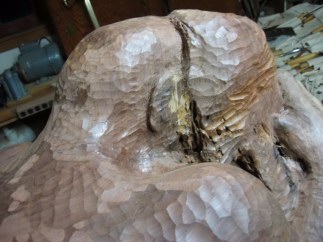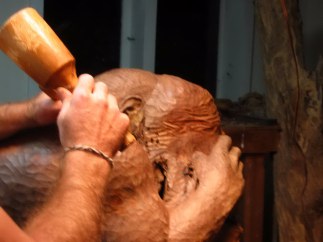 With a rainy day and time out from the grove I am able to continue. And the ear came out pretty well! This was particularly difficult to photograph without interference from the intense glare from the freshly cut surfaces left by the gouges.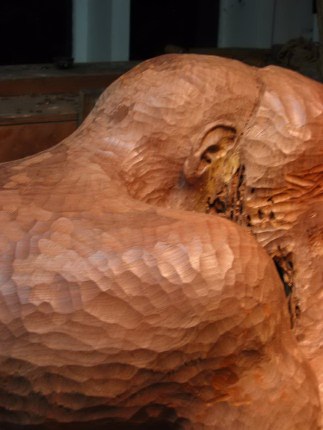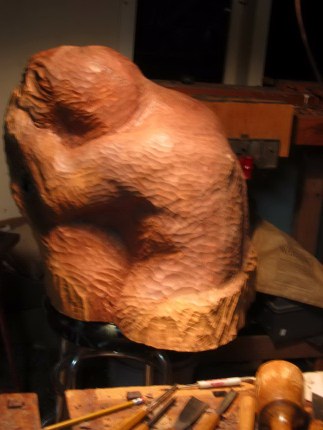 On October 1 the President signed Tibetan Policy Act ( you may already know this-it's on the ICT website ). It's a tremendous development for a country whose leader for years was not even permitted to meet officially with heads of state. It essentially has written into law the U.S. government's support of the Tibetan people in their own country.

In the end, peaceful perseverance overcomes all obstacles.

I just been called by the ICT (10/15). Apparently, they are in great need of contributions as they are planning an extensive campaign for the release of Buddhist nuns . A few have successfully been released and several have had their sentences reduced. But many others are not in good health and the situation is growing steadily worse.

I've placed a view of the opposite side of the sculpture above. This side is also roughed out; It is progressing well but there is plenty of work remaining!

Here I am developing the upper arm and shoulder area. It was difficult to photograph this so as to show the planes of the upper arm and the shoulder and I needed to lower the illumination quite a bit. It is getting pretty cold in the studio now!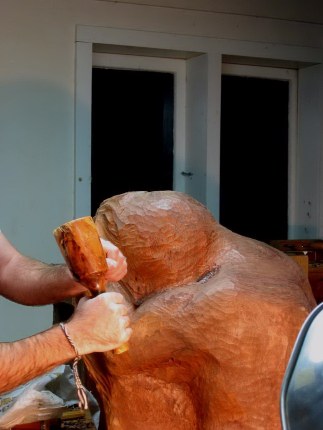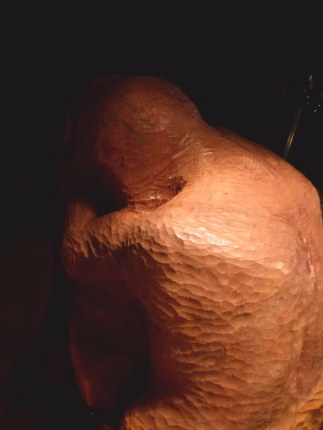 And now, a Windhorse project continues on the next page...